5 "I could not put it down" stars!
ARC provided by author in exchange for an honest review!
After reading Back to Life, I knew this story would only get better. In Back to Reality, Sahara is faced with a lot of tough choices. She needs to decide to take back her life and live it the way she wants, not the way she feels she deserves. She also must decide who she wants to share that new life with.
Her new love, Ty, is sex-on-stick wrapped with confidence and drive. Her first love, Emmanuel, is panty-dropping gorgeous with eyes that could claim your soul.
Uh, choose?! Well that's not exactly an easy thing to do!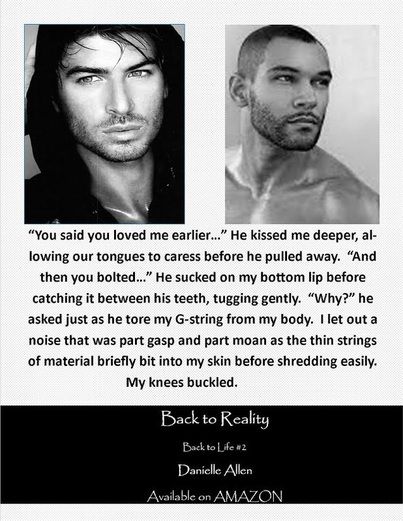 Before she can choose, she needs to take a long hard look at herself. Holding on to ten years of guilt has done terrible things to her confidence.
"Everything is not always my fault."-Sahara
These words become her mantra because for so long she's blamed herself for things beyond her control and it needed to stop. She has to admit and accept some very hard facts about her herself in order to change and finally allow herself to be loved.
I loved that I could not predict how things would turn out in the end. I could easily see her with either guy. They both had qualities that made them equally irresistible. But...I did make a choice...and so did she!
"You're it for me. Even if the only reason you've come here is to break my heart and to tell me you want nothing to do with me anymore. That doesn't change anything on my end. You are the one." - Sahara
Yay! Let's just say that I got my wish!! It was an incredibly powerful moment! I felt that both Ty and Emmanuel were fairly represented and that the author treated them both with so much dignity and respect. No heartbroken guy hovering in the corner, thankfully! It just all made sense in the end and came together beautifully!
So to recap: I loved the plot, the characters, and the playlist. I devoured the life lessons on heart break and the renewal of spirit but my most favorite part was... ALL OF IT!
I'm a huge fan of Danielle Allen's and will read anything she writes!
For more reviews, book chat and other craziness visit our blog at http://www.rebelbookchicks.com/